"SAYAT-NOVA" MINSTREL SONG ENSEMBLE
The "Sayat-Nova" State Minstrel Song Ensemble was established in 1927 by the famous singer and musician Shara Talian. Since 1942 the Ensemble was directed by Armenia's People's Performer Vagharshak Sahakian.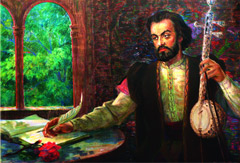 In 1972 the Ensemble ceased its activities.
In 1992 Tovmas Poghosian, bringing together a group of professional singers and musicians around him, reestablished the Ensemble which still performs today enjoying the admiration and support of the Armenians in the Motherland and the Diaspora alike. The Ensemble's orchestra is directed by composer Artem Khachatur. Aside from the singers the Ensemble includes these instruments: tar; saz; santour; dap; kamancha; kamani; and tav kamani.
The repertoire of the Ensemble consists of more than 300 songs of the minstrels from the past and the present.
In recent times, the Ensemble's repertoire enriched with 24 compositions of the Armenian minstrels from the Peri province in Iran. The majority of these songs were unknown. Apart from concerts, the same program was presented in the recordings of "Saya- Nova" Ensemble as well.
Nearly each and every one of minstrel Sayat Nova's works-31 in total-were likewise recorded and released in two albums: "National Patriotic Songs of Armenian Minstrels" and "Songs of Armenian Minstrels of Peri" (Two discs).
The "Sayat-Nova" Ensemble has performed numerous concerts throughout Armenia and the Diaspora-Russia, Georgia, Iran, Great Britain, United States, etc.
ARTISTIC DIRECTOR: TOVMAS POGHOSIAN
Candidate of Philology
"Komitas" State Conservatory Professor
DIRECTOR OF INSTRUMENTS ENSEMBLE: VARDAN BAGHDASARYAN