ARTISTIC DIRECTOR
Artistic Director of "Sayat-Nova" Cultural Union is Honored artist of RA, Candidate of Philology, Komitas State Conservatory  Professor  Tovmas Poghosian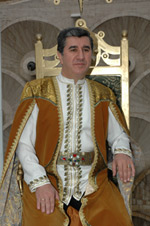 Tovmas Poghosian was born on January 18, 1954, at Sarchapet village of Armenia's Lori Province.
In 1960-1971 he studied at and graduated from Armenian Intermediate School No. 110 in Tbilisi, Georgia.
In 1971-1972 he worked at "Sayat-Nova" Meritorious State Minstrel Song Ensemble directed by Armenia's People's Performer Vagharshak Sahakian.
In 1972-1973 he studied at Gevorgian Religious Seminary of Ejmiatsin.
In 1973-1977 he studied philology at Pedagogical Institute of Vanadzor (Kirovakan).
Along with his studies, he also sang at "Horovel" State Ethnographic Song and Dance Ensemble of Vanadzor.
After graduating from Institute, he was assigned as Armenian language teacher to intermediate school of Hatis village in Abovian Region where he worked until 1980.
In 1980-2000 he was a soloist at Tatoul Altounian Meritorious State People's Song and Dance Ensemble of Armenia.
In 1980-1985 he studied Armenian art of singing and folk instruments at "Komitas" State Conservatory of Yerevan. He was a pupil of teaching composer, singer, and Conservatory's Professor Arzas Voskanian.
In 1987-1992 he established and directed "Gandzasar" Folk Song and Dance Ensemble.
Since 1987 he works as text specialist and lecturer at Armenian Musical Folklore Studies Chair of "Komitas" State Conservatory and since 1995 he teaches the subject of Armenian Minstrel Art to Conservatory's 2 2nd year folk instrument students.
In 2001 he received title of Associate Professor and in 2004 that of Professor.
In 1992 he founded and still directs "Sayat-Nova" Minstrel Song Ensemble of Public Radio and Television of Armenia.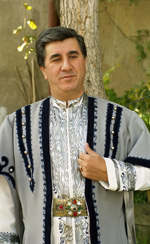 In 1995 he founded "Sayat-Nova" Cultural Association on groundwork of "Sayat-Nova" Minstrel Song Ensemble. Within framework of the Association, he established in 1997 the "Jivani" School of Minstrel Art and Association of Armenian Minstrels.
Within frames of the Association, he founded in 2001 the Center for Minstrel Art Study.
In 2001 he was awarded "Moses of Khoren" Medal of Honor.
His numerous articles are published in newspapers, monthly magazines, and collected works. He is the author of "Jivani: 150, Unknown Songs" monograph-anthology.
He has performed numerous concerts throughout Armenia and many other countries – Commonwealth of Independent States, Iran, Syria, Greece, the Netherlands, Canada, New Zealand, Australia, France, Great Britain, and United States.